Senior centers lag behind Alzheimer's rising tide in Oregon
Printer-friendly version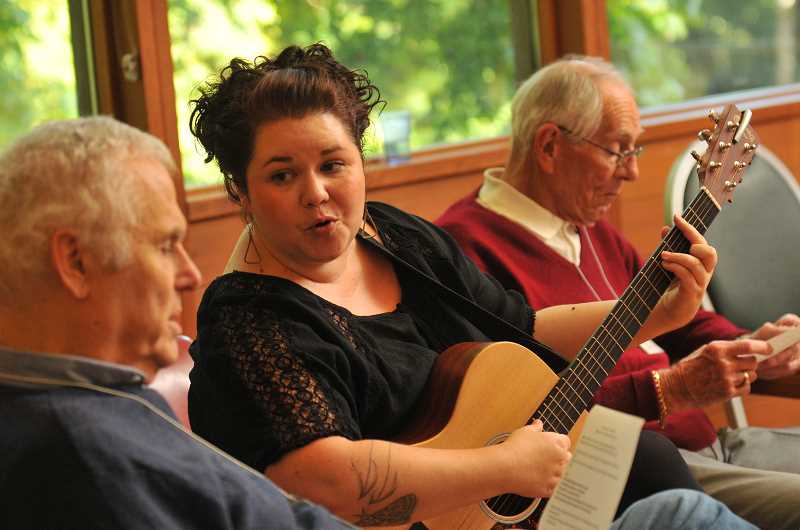 Music therapist Keeley St. Clair sings with Lake Oswego residents Tom Moore (left) and Robert Russell at the Adult Community Center. Respite classes are led by music, art and horticultural therapists.

Photo Credit: VERN UYETAKE/LAKE OSWEGO REVIEW
Art Martin saw his wife Sue through her dementia diagnosis and treatment. Now when he talks to others about her, it's rare, he said, when he doesn't hear a story of a relative, a parent or a spouse that echoes his own: Martin was completely unprepared for his new responsibilities.
"I'd read a little bit and knew there were some potential issues," said Martin, who lives in Lake Oswego. "But basically I was ignorant."
The story of Art and Sue Martin matters because increasingly Oregonians will have to pay to care for an aging population where Alzheimer's and dementia are on a sharp uptick. Right now in Oregon, nearly 60,000 adults suffer from Alzheimer's. By 2025, that number is set to jump to 84,000 — almost two percent of the population.
Yet senior centers, an important provider of services to older adults and a local link to state and federal safety net programs, are frequently unprepared to serve people with Alzheimer's and the family members who care for them.
How unprepared? One recent study by a Washington University in St. Louis scientist found that senior center workers know less, on average, about Alzheimer's than the typical university student.
That lack of knowledge among senior center workers worries some of their bosses.
"I think that we need to develop some additional skills and capacity on the part of our staff," said Susan Getman, chair of the National Institute of Senior Centers, an arm of the National Council on Aging, who also serves as executive director of a center in Wilmington, Delaware.
But the training Getman advocates costs money. And it could mean a change in how senior centers identify themselves in the community, one Portland State University researcher is learning.
In some ways, Oregon has a head start with Alzheimer's care. Nearly 20 years ago, it became the first state in the U.S. to set aside money for a statewide respite program — offering caregivers like Martin a break from what is often a full-time job requiring constant attention to a loved one who is slowly fading.
"You get to the point where you kind of hate to leave them alone," said Martin.
Today the Oregon Health and Science University's Brain Institute lists 17 respite programs for Alzheimer's caregivers. And demand for such programs is growing, said Dana Tassos, who oversees client services at the Lake Oswego Adult Community Center.
Lake Oswego's respite program, where someone caring for a family member with Alzheimer's can drop off their charge for four hours of art, music and other activities, is now offered twice a week in response to a long and growing waiting list. The center also hosts a caregiver support group in partnership with the Oregon chapter of the Alzheimer's Association that draws three times as many participants as it did when it was started 14 years ago.
The programs are popular because they work. Alzheimer's can be debilitating. As the brain atrophies, it can cause people to no longer be able to do complex day-to-day tasks like driving. Memory loss is also common. The strain on caregivers is constant — but research shows that those who get time off report being in better heath, physically and emotionally. Respite programs reduce costs for both families and public coffers. They are more affordable than in-home care, and access to respite programs can allow caregivers to delay moving their loved one into an assisted living center, which draws money from Medicare or state budgets.
After their four-hour break every week, Tassos said, "caregivers would come back and I would see the relief in their faces."
Yet programs like this one only serve a small number of the roughly 173,000 unpaid caregivers the Alzheimer's Association estimates there are in Oregon.
How to do more? That's a regular topic of conversation among directors of senior centers, said Getman of the national senior centers' directors group.
For starters, centers need trained staff, she said. Many centers aren't equipped or staffed to serve people who cannot always take care of themselves. She worries, for example, about what would happen if someone were to wander away and get hurt or get lost. But training requires money. And money requires advocacy.
"Senior centers need to be doing some things on their own to recognize the need and respond to it, but also to be advocates at the local, state and national level to make people more aware of what's going on and come up with community-based solutions for those problems," Getman said.
Oregon is making some progress on that account. After several years of cuts to social services for older adults, a one-time investment of $3.3 million from the state's general fund was allotted this year to train long-term-care workers and develop more resources for caregivers. An additional $1.25 million was approved at the same time for local Area Agencies on Aging to support evidence-based projects promoting wellness in older adults.
Being on the front lines of public health like this is new for senior centers, said Melissa Cannon, a researcher at Portland State University studying these changes in the Portland area. These centers have long been social gathering places for older adults, she said. Now some are adding wellness programs, and more staff members must receive specialized training in aging.
"That's what's really different from what senior centers used to be," Cannon said.
But more needs to be done. Most people want to stay where they are as they grow older. Yet getting to and from senior centers can be hard, especially in rural areas, and there is a lot of work to do to educate people about existing programs.
Experts raise concerns, too, about equitable access to care, particularly among high-risk groups. Older African-Americans are about twice as likely to have Alzheimer's or dementia as older Caucasian adults, and Hispanics are about 1 1/2 times as likely. Health conditions such a high blood pressure and diabetes, which are more prevalent among African-Americans and Hispanic people, may increase the risk of Alzheimer's, as do lower levels of education and other socioeconomic characteristics.
People who work at centers say it's hard to be everything for everyone, according to Cannon. "There's so much demand on them to expand their services and activities."
Art Martin's wife Sue entered full-time care four years ago. That was five years after he went to his first caregiver support group at the bucolic adult center in Lake Oswego. He devotedly makes the six-mile trip to visit her at lunch every day. She's no longer able to feed herself.
Now there are new faces at Martin's support group. More participants are younger, confronted with a loved one's diagnosis with early-onset Alzheimer's. They are looking for a safety net, and it's hard to downplay how critical these services will become in the coming years as the number of people with Alzheimer's continues to grow.
Over nearly a decade Martin's support group has become a second family and he still attends.
What keeps Martin coming back?
"That's a good question, and I don't know that I can give you a good, solid answer. Part of it is habit. Part of it is you get to know some of the people," he said.
"But sometimes you can offer something."
Jason Alcorn wrote this story for InvestigateWest with support from the MetLife Foundation Journalists in Aging Fellowships, a program of New America Media and the Gerontological Society of America.
Acknowledgments
The MetLife Foundation Journalists in Aging Fellowships, a program of New America Media and the Gerontological Society of America.
Also Published By: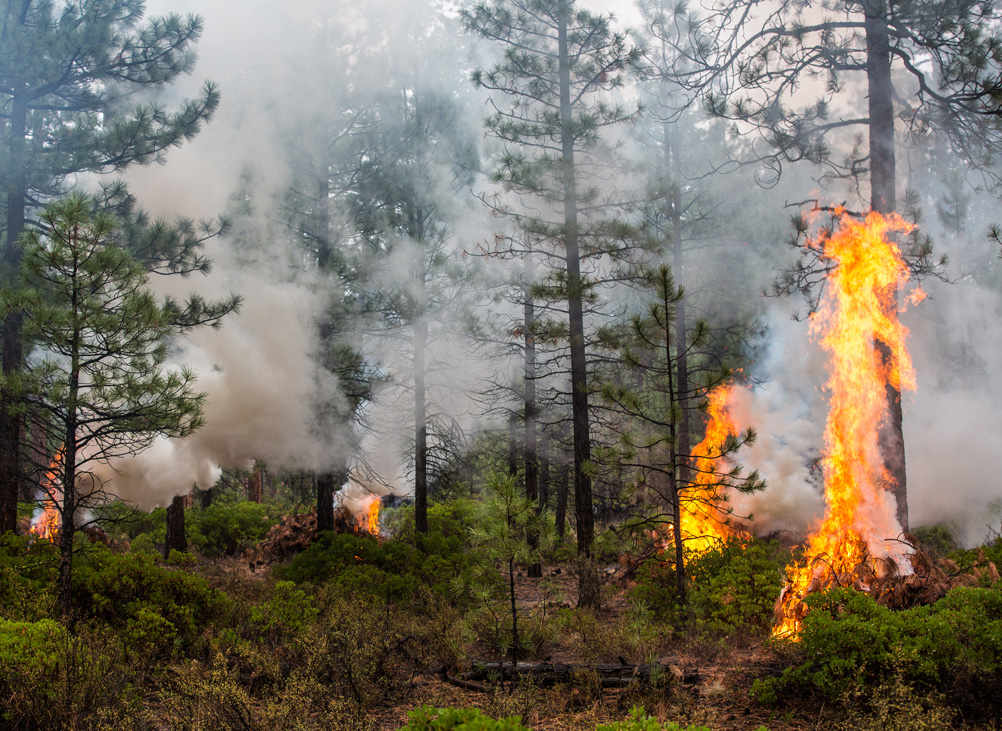 Forests and the Economy | May 2015
Environmentalists and the timber industry — once bitter adversaries — are working as allies on forest restoration. Collaborative forest thinning projects aim to fight megafires before they start — but money is scarce and tens of thousands of acres acres in Oregon now face an elevated risk of catastrophic fire. Ben DeJarnette reports for InvestigateWest.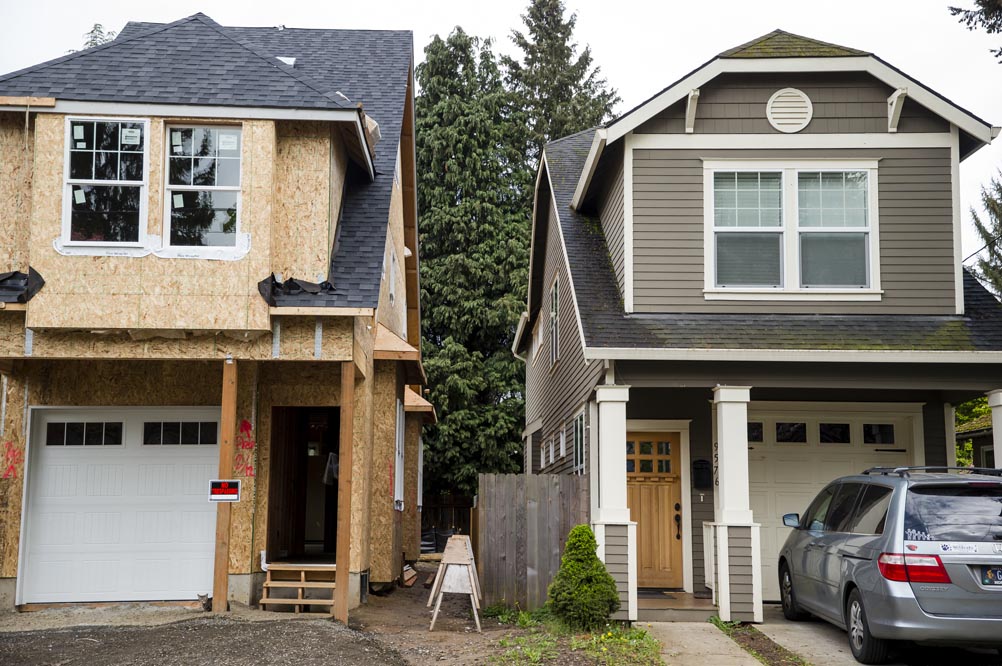 Equity | April 2015
Cash reigns in the Portland housing market. The city faces pressure from a new kind of speculation, as investors buy thousands of homes with cash and long-established protections for bank-financed homebuyers are ignored. Lee van der Voo and James Gordon report for InvestigateWest.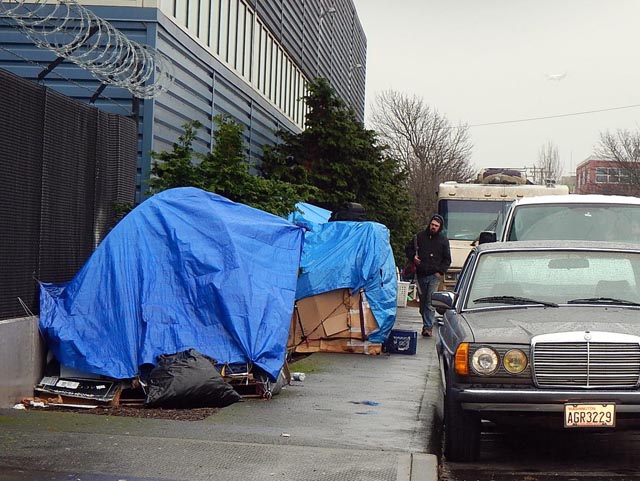 Wealth and Poverty | March 2015
March 2015 marks the anniversary of a bold promise: King County's 10-year plan to end homelessness. Now that the 10-year plan is ending and local homelessness is worse than ever, talk of ending homelessness is being replaced with less-lofty aspirations: making homelessness rare and brief when it does occur.
In collaboration with KUOW this week, we examine the roots of the plan, the challenges it faced, and where community and city leaders think we go from here.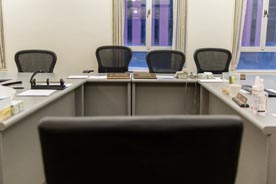 Equal Justice | December 2014
With grand jury reform elsewhere focused on eliminating racial bias and curbing police use of force, Oregon is an outlier: It is one of just 14 states that do not regularly record the citizen grand juries that charge people with felonies.
Almost five years after police killed an unarmed black man in Portland and the Multnomah Co. district attorney petitioned for that grand jury to be recorded, lawmakers in Salem are lining up behind a reform bill to mandate recording statewide, InvestigateWest has learned.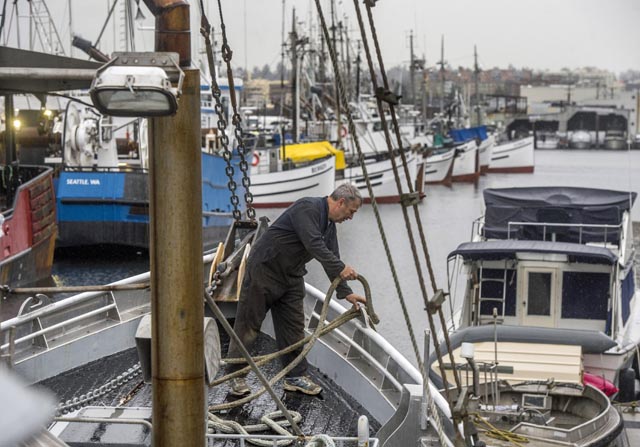 Seafood | December 2014
A struggle in Alaska over shrinking supplies of halibut is threatening the iconic centerpiece fish in favor of cheaper exports, fast-food fillets and fish sticks.
At risk is most of the frozen supply that sustains restaurants, food-service companies and retail stores nationwide, such as Costco and Whole Foods. Lee van der Voo investigates.
Photo: Peter Haley / The News Tribune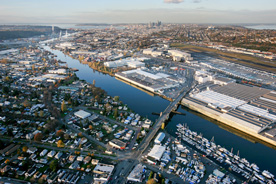 Environment | November 2014
It will take hundreds of millions of dollars to clean up the Duwamish River. But how clean is clean? And who decides?
Robert McClure looks at how lobbyists and community groups have squared off over the health of the waterway and its neighborhoods.
Photo: Paul Joseph Brown/ecosystemphoto.com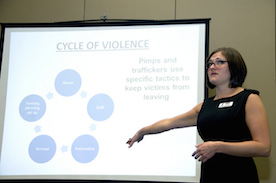 Trafficking | October 2014
Authorities say organized gangs increasingly are trafficking children for sex in the Northwest, and even cooperating with each other to stymie police.
Meanwhile in Portland, the U.S. Attorney's Office has become the third most prolific nationally in securing indictments for trafficking children and adults for sex.
Photo: Oregon DOT/Flickr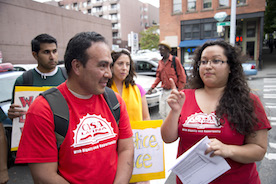 Minimum Wage | August 2014
"Everyone is aware that passing a $15 an hour minimum wage was historic," an advisor to Mayor Ed Murray and the Seattle City Council told InvestigateWest. "But if we cannot enforce that, we haven't accomplished much."
Based on a review of more than 20,000 wage theft complaints, hundreds of pages of reports and more than a dozen interviews, "Stolen Wages" shines a light on the dark world of pay violations in Seattle and across Washington.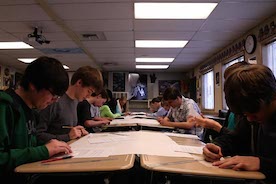 Infrastructure | May 2014
Portable, modular or relocatable classrooms — whatever you call them — are a necessity for cash-strapped schools.
But many portables become permanent fixtures, in place for decades at a time. Costly and insufficient, these aging structures burden the grid, frustrate teachers and administrators and compromise student health.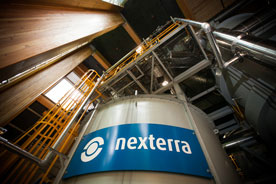 Environment | April 2014
Energizing our world with wood sounds so natural. And it has quickly become a multibillion-dollar industry as governments including British Columbia and the European Union turn to biomass to replace dirty old coal. Yet what we found when we dug into the coal-vs.-wood debate will surprise you.
Acknowledgements
In our work, we rely on the generosity of many others who make their services available for free or at a discount to nonprofits, including Tableau and the Texas A&M GeoServices Team.