Legislature Poised to Cut Firefighting Budget Despite Drought Threat
Printer-friendly version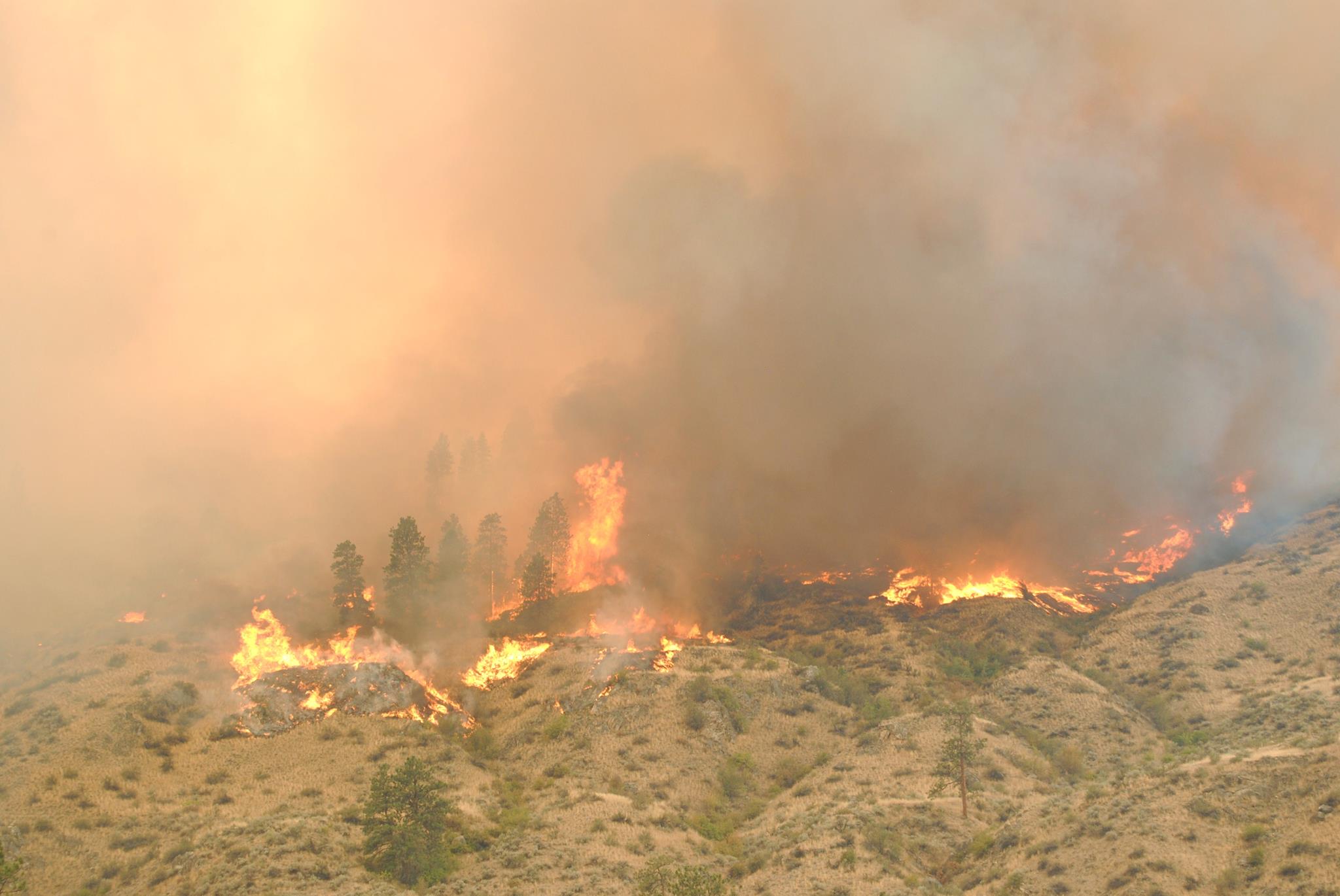 Hundreds of square miles in Okanogan County burned in July 2014. Photo courtesy of Rep. Joel Kretz.
As massive flames swirled in the hot, dry winds of July, thousands of people rushed away from their homes in forested areas of Okanogan County in north-central Washington. Escaping through dense smoke, families sought refuge from a firestorm that raged out of control for more than a week, spreading rapidly and eventually consuming more than 400 square miles.
As the danger subsided, people went home — except for some 350 families who had no homes left. But many considered themselves lucky to have survived the worst wildfire in Washington state history — to be known forever as the Carleton Complex fire, a merging of several lightning-sparked blazes near the towns of Carlton, Twisp and Winthrop.
Nearly a year later, state officials are bracing for a fierce new fire season, with hot, dry conditions they fear will bring new threats to Western Washington as well as Eastern Washington. The Department of Natural Resources is asking for extra money to ensure quick attacks against wildfires when they are small and to focus on reducing fire risks in the remaining forests.
But so far, the agency has received a rather cool response from the Legislature.
With more than 70 fires already reported this year, officials say that by high summer conditions could become as severe as last year, when some fuels in Eastern Washington were literally as dry as matchsticks.
Even on the wet side of the state, weather forecasters predict hot and dry conditions in the Puget Sound region and along the coast. By July, even Western Washington could face the threat of a severe fire.
Gov. Jay Inslee two weeks ago expanded a drought emergency declaration to cover nearly half the state.
As of Friday, snowpack in the mountains stood at 17 percent of average, worse than the last drought declaration in 2005. Runoff from snowmelt from now until September is expected to be the lowest since the first official measurements were taken 64 years ago.
Department of Natural Resources officials are requesting $4.5 million for "initial attack" efforts that they say could make the difference between a small, limited fire and one that rages out of control. Facing the risk of fires on both sides of the mountains at the same time will take more resources, including firefighters, fire engines and helicopters, Commissioner of Public Lands Peter Goldmark said in an interview with InvestigateWest.
"It is important for people to understand that we are seeing a change in the weather pattern and getting into a more drought-y situation in Western Washington," said Goldmark, an elected official who leads the Department of Natural Resources. "The fire conditions are changing, and that makes it imperative that we get the fires out when they are small."
Over the past decade, the Legislature has generally set the Department of Natural Resources' two-year base budget for fighting fires at about $35 million, with approval of a supplemental after-the-fact budget to pay the actual costs. Until this year, the supplemental budgets ranged from $15 million to $48 million.
For the current biennium, 2013-15, the Legislature raised the base budget from $32 million to $51 million in anticipation of increased firefighting needs. But that turned out to be far from enough, requiring lawmakers to come back this year and approve a $79 million supplemental budget, largely to pay the costs of the Carlton Complex fires. Although the biennium still has two months to go, the final cost for the past two years is expected to reach $128 million — twice the tab for the previous two-year period.
In the addition to those operating costs, Goldmark is requesting an additional $20 million to bolster long-term efforts to reduce the risk of fire. The money would be used to thin forests containing an unnaturally heavy buildup of fire fuels, improve overall forest health and help rural residents reduce the risk that their homes would ignite and be consumed by fire.
So far, the Legislature has failed to fully embrace Goldmark's proposals, as lawmakers struggle to balance the budget. The House offered Goldmark an increase of $2.5 million for early-response efforts — a little more than half of his request — but the Senate proposed no increase. The base budget for firefighting is proposed at $47 million in the both the House and Senate budgets, down from the previous biennium despite this year's dire conditions.
Both houses trimmed Goldmark's $20-million request for thinning and prescribed burning of forests, to $10 million in the Senate budget and to $5 million in the House budget.
Rep. Joel Kretz, R-Wauconda, said Goldmark's request is reasonable and it could help avoid another devastating fire in Eastern Washington — but these are not the only measures that need to be taken. Kretz was a close observer of the Carlton Complex fires, which destroyed the homes of his friends and neighbors in Okanogan County.
Kretz, who has spoken directly to Goldmark and testified before the House Agriculture and Natural Resources Committee, has been critical of the Department of Natural Resources' actions during the fire's early stages. In one case, he said, local contractors were denied permission to attack a smoldering fire on state land until state officials could assess the situation. By then, the fire had gotten out of control, he said.
"What I saw over there, particularly in the Carlton Complex, was a paralysis in the command center," said Kretz in an interview with InvestigateWest. "There were a lot of local resources available that were not deployed for five or six days."
In the aftermath of the devastating blaze, fire officials with the Department of Natural Resources began working to improve coordination with local firefighting crews, which can often reach the fire first.
In the current legislative session, Kretz pushed through a "good Samaritan" bill that would allow local crews and heavy-equipment operators to enter state lands to put out a blaze without receiving official permission or worrying about liability for their actions.
The Kretz bill, HB 2093, also would require the DNR to identify and contract with local people who can arrive early to a fire. The legislation also includes provisions for a new state liaison and Fire Advisory Committee to coordinate information during a fire. The bill is awaiting the governor's signature.
Kretz said he supports Goldmark's plan to help timberland owners thin crowded stands of trees and reduce the heavy buildup of flammable brush. In some cases, it will take money to thin unmarketable timber, he said, but in many cases thinning can produce revenue for the owner. In any case, keeping fires small will pay off in the long run with reduced property damage and human heartbreak, he said.
"We've got to address the fact that we have unnatural conditions in much of Eastern Washington," Kretz said. "We can do something about it, but there is a huge squeeze on the budget. It's a matter of educating urban legislators — which is hard to do in the middle of budget discussions."
Goldmark's strategic plan is to improve conditions across large landscapes in high-risk areas of the state, particularly in Okanogan, Ferry, Klickitat and Yakima counties. Since ownerships often occur in a checkerboard pattern, work would be done on state, private and federal lands as needed.
A key element of the plan is to reduce "ladder fuels," such as brush and low-hanging branches, which allow a fire to climb into the crowns of trees, where ground-based firefighters lose control.
Goldmark's proposal also directs money to the state's Fire Wise program, which helps people protect their homes from fire by taking steps such as removing fuels near buildings and planting fire-resistant vegetation.
Goldmark said he is trying to save money by learning from the past and anticipating problems yet to come. In recent years, the average U.S. fire season has been burning twice as many acres of land and three times as many buildings as in 1990.
"People are saying the future is going to be hotter and dryer," he noted, "but based on my experience, the future is now. What we are trying to do is be prepared for the worst, but hope for the best."
Environmental groups in Washington are generally supportive of both enhanced firefighting capabilities and treating overgrown forests to reduce the fuel load and prevent insect infestation. If executed properly, the result can be enhanced wildlife habitat and other forest values, said Mo McBroom, director of government relations for The Nature Conservancy's Washington chapter.
Helping small forestland owners is a priority, she said: "These are folks who would like to do improved forest management but struggle with the costs."
Goldmark's plan also is supported by the largest timberland owners in the state, said Debora Munguia, director of government relations for the Washington Forest Protection Association, which lobbies on behalf of the timber industry. The major forestland owners pay an annual assessment to the state's firefighting budget.
"A lot of members have lands adjacent to state and federal lands, so we support getting these fires out quicker," Munguia said.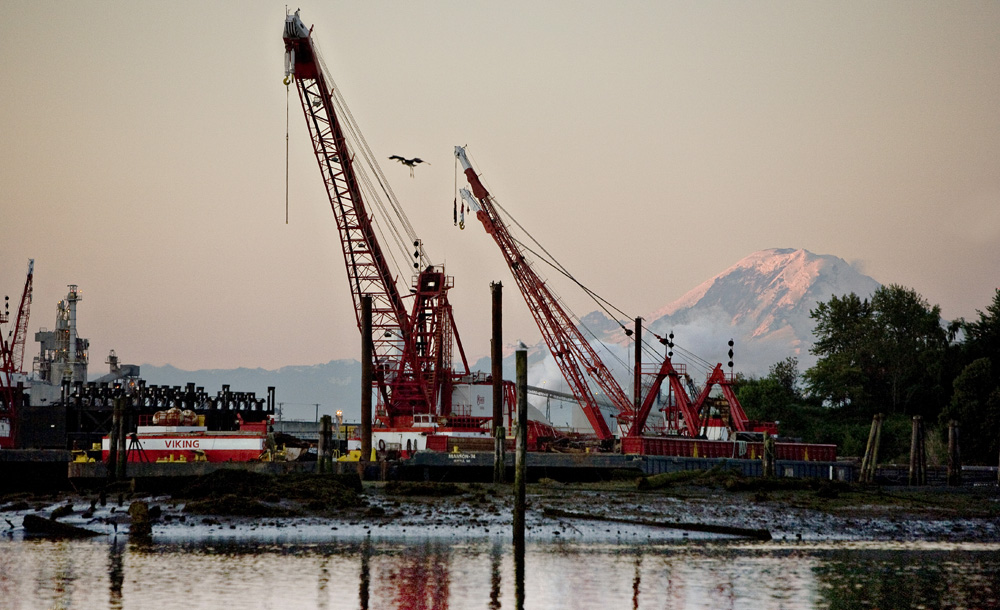 by Ashley Stewart
by Ashley Stewart
by Christopher Dunagan
by Christopher Dunagan
by Christopher Dunagan
by Christopher Dunagan
by Kim Drury
by Christopher Dunagan
by Christopher Dunagan
by Kim Drury
by Christopher Dunagan
by Christopher Dunagan
Support our Reporting
Got tips for our reporter?
If you have a story you'd like to see covered, please email Robert McClure at rmcclure@invw.org
In Partnership With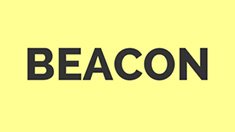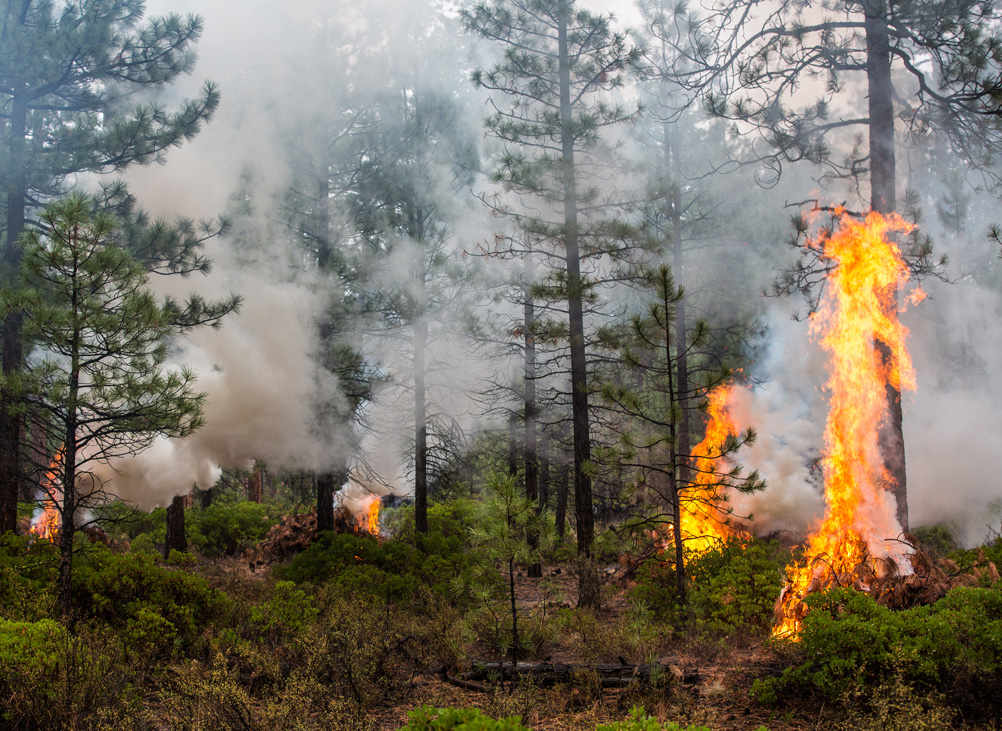 Forests and the Economy | May 2015
Environmentalists and the timber industry — once bitter adversaries — are working as allies on forest restoration. Collaborative forest thinning projects aim to fight megafires before they start — but money is scarce and tens of thousands of acres acres in Oregon now face an elevated risk of catastrophic fire. Ben DeJarnette reports for InvestigateWest.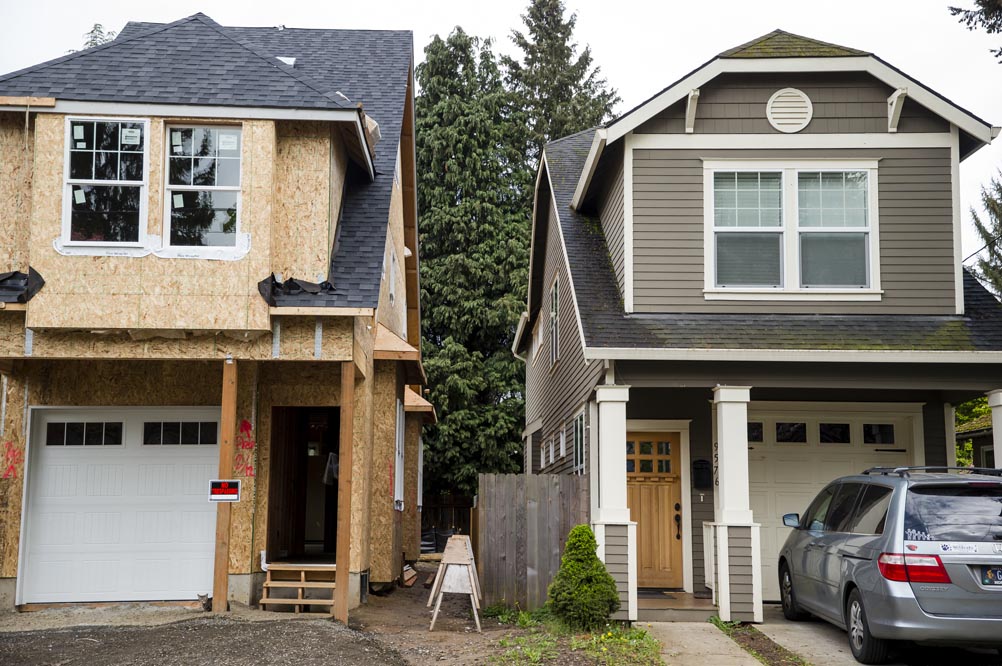 Equity | April 2015
Cash reigns in the Portland housing market. The city faces pressure from a new kind of speculation, as investors buy thousands of homes with cash and long-established protections for bank-financed homebuyers are ignored. Lee van der Voo and James Gordon report for InvestigateWest.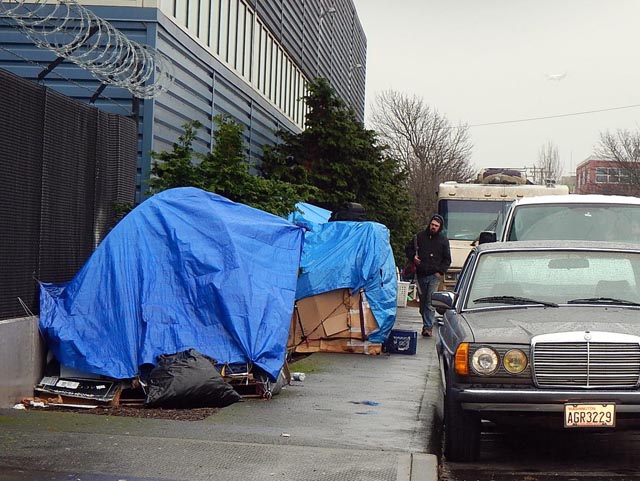 Wealth and Poverty | March 2015
March 2015 marks the anniversary of a bold promise: King County's 10-year plan to end homelessness. Now that the 10-year plan is ending and local homelessness is worse than ever, talk of ending homelessness is being replaced with less-lofty aspirations: making homelessness rare and brief when it does occur.
In collaboration with KUOW this week, we examine the roots of the plan, the challenges it faced, and where community and city leaders think we go from here.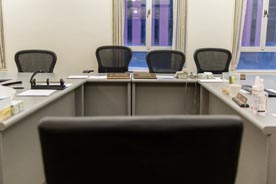 Equal Justice | December 2014
With grand jury reform elsewhere focused on eliminating racial bias and curbing police use of force, Oregon is an outlier: It is one of just 14 states that do not regularly record the citizen grand juries that charge people with felonies.
Almost five years after police killed an unarmed black man in Portland and the Multnomah Co. district attorney petitioned for that grand jury to be recorded, lawmakers in Salem are lining up behind a reform bill to mandate recording statewide, InvestigateWest has learned.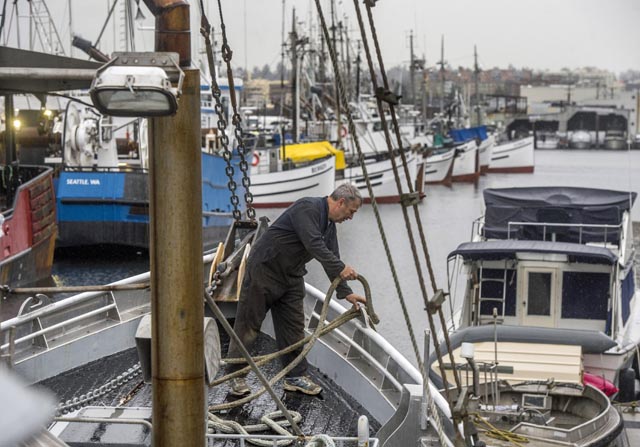 Seafood | December 2014
A struggle in Alaska over shrinking supplies of halibut is threatening the iconic centerpiece fish in favor of cheaper exports, fast-food fillets and fish sticks.
At risk is most of the frozen supply that sustains restaurants, food-service companies and retail stores nationwide, such as Costco and Whole Foods. Lee van der Voo investigates.
Photo: Peter Haley / The News Tribune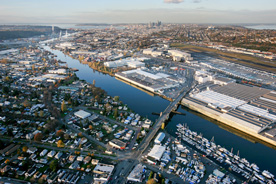 Environment | November 2014
It will take hundreds of millions of dollars to clean up the Duwamish River. But how clean is clean? And who decides?
Robert McClure looks at how lobbyists and community groups have squared off over the health of the waterway and its neighborhoods.
Photo: Paul Joseph Brown/ecosystemphoto.com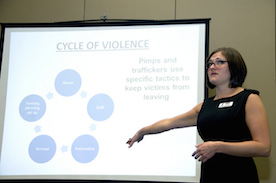 Trafficking | October 2014
Authorities say organized gangs increasingly are trafficking children for sex in the Northwest, and even cooperating with each other to stymie police.
Meanwhile in Portland, the U.S. Attorney's Office has become the third most prolific nationally in securing indictments for trafficking children and adults for sex.
Photo: Oregon DOT/Flickr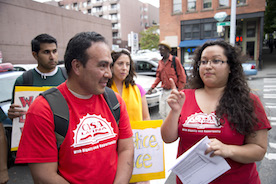 Minimum Wage | August 2014
"Everyone is aware that passing a $15 an hour minimum wage was historic," an advisor to Mayor Ed Murray and the Seattle City Council told InvestigateWest. "But if we cannot enforce that, we haven't accomplished much."
Based on a review of more than 20,000 wage theft complaints, hundreds of pages of reports and more than a dozen interviews, "Stolen Wages" shines a light on the dark world of pay violations in Seattle and across Washington.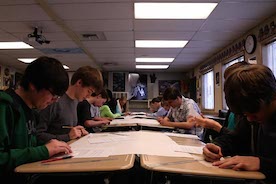 Infrastructure | May 2014
Portable, modular or relocatable classrooms — whatever you call them — are a necessity for cash-strapped schools.
But many portables become permanent fixtures, in place for decades at a time. Costly and insufficient, these aging structures burden the grid, frustrate teachers and administrators and compromise student health.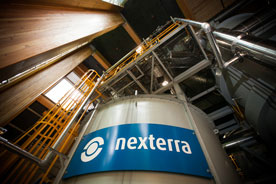 Environment | April 2014
Energizing our world with wood sounds so natural. And it has quickly become a multibillion-dollar industry as governments including British Columbia and the European Union turn to biomass to replace dirty old coal. Yet what we found when we dug into the coal-vs.-wood debate will surprise you.
Acknowledgements
In our work, we rely on the generosity of many others who make their services available for free or at a discount to nonprofits, including Tableau and the Texas A&M GeoServices Team.