Feds watch closely as state updates water-quality standards
Printer-friendly version
Photo: Meegan M. Reid/Kitsap Sun
For more than 40 years, state regulators have been pondering the raw end of effluent pipes to control water pollution — and they will keep doing so for the foreseeable future.
Under federal guidelines, the state Department of Ecology has been enforcing statewide water quality standards, which were last updated in 1992. These apply to toxic discharges from industrial facilities and sewage-treatment plants.
Now, under threat from the Environmental Protection Agency, Ecology is rushing to complete a new set of standards for toxic chemicals before the EPA takes over and imposes its own standards on the state. The situation is expected to come to a head in August.
Related: Balancing risks and rewards of a seafood diet
As one might expect, environmentalists and tribal officials are pushing for stricter water-quality standards to protect people's health, while industrial operators worry about the costs and necessity of a whole new set of regulations.
Meanwhile, all sides find themselves in rare agreement, saying that tightening controls on chemicals discharged from pipes is only part of the solution to pollution — and probably not the most important action when it comes to protecting human health.
Stepping into the fray, Gov. Jay Inslee is trying to soften the regulatory blow for cities, counties and industry while going to war against stormwater pollution — which the Puget Sound Partnership calls the greatest threat facing Puget Sound.
"Forty years ago, we were fighting big pipes spewing toxic contaminants into our water," Inslee said when announcing his new initiative last year. "We've come a long way since then in getting that kind of pollution under control."
"Today," he said, "the majority of toxic pollution comes from chemicals that are used to make so much of what we use today, from the brakes on our cars to the flame retardants in our furniture."
Except for a few rare cases, toxic chemicals pouring into Puget Sound and other waterways via stormwater are not regulated by the state's water-quality standards. Those regulations only address end-of-pipe pollution. In fact, only 96 "priority pollutants" are controlled by state rules, out of several hundred chemicals raising red flags among toxicologists and environmental activists.
Absent from the list of regulated chemicals are toxic flame retardants and pharmaceuticals, along with most chemicals found in household and personal care products. The regulated list includes some, but not all, phthalates — a group of chemicals used to make plastics that are coming under increasing scrutiny for their toxic effects.
Legislation proposed by the governor would empower Ecology and provide funding to study, track down and eliminate the worst toxic chemicals, provided that reasonable alternatives can be identified. Up to four chemicals or groups of chemicals would be studied every two years.
Numerous industry representatives testifying on the governor's bill said they do not trust Ecology to ban the right chemicals or set appropriate limits. An amendment to House Bill 1472, now ready for a floor vote in the House, would provide oversight and final decision-making by a permanent panel of 13 people, including experts and government representatives.
While the Legislature does its work, Ecology officials are holding public hearings on water quality standards for end-of-the-pipe discharges. The next hearings will be Thursday at 1:30 p.m. and again at 6 p.m. at Ecology Headquarters, 300 Desmond Drive in Lacey. An online webinar may be accessed with advance sign-up.
Formula at Center of Discussion
Perhaps the most disappointed with the proposed water quality standards, as endorsed by Inslee, are leaders of Indian tribes throughout the state.
At the center of the discussion is a mathematical formula that sets the limits of pollution coming out of a pipe, with some variations permitted. Factors include how much fish a person eats, how much cancer risk is allowed and the toxicity of each chemical.
After four years of discussion with state and federal officials, tribal representatives agreed to a "compromise" to raise the daily fish-consumption rate from 6.5 grams a day (less than one-quarter of an ounce) to 175 grams (about 6 ounces).
Many tribal members eat more than 175 grams a day, said Jim Peters, a tribal council member for the Squaxin Island Tribe, noting that eating more fish exposes them to more toxic chemicals than assumed in the calculation, raising their risk of getting cancer.
"Some eat more than my entire family does," Peters said, "and I'm a commercial fisherman, so my family eats a lot of fish. All the fish we eat is from southern Puget Sound. We freeze it and smoke it and eat it all winter."
All other things being equal, the change in fish consumption would have reduced the pollution limits — and increased the margin of safety — by 27 times for polluted waters. But all things are not equal.
For cancer-causing chemicals, Inslee's proposal would increase the cancer risk from one in a million to one in 100,000, bringing the water-quality standard back down by a factor of 10. In other words, his standard would accept the risk that one out 100,000 people could get cancer over a lifetime of exposure, instead of one out of a million.
Raising a person's assumed body weight in the equation also reduces the margin of safety. Changes in the toxicity factor raise the pollution limit for some chemicals and lower it for others.
No matter the effect of the equation, Inslee issued an order that no new standards would become less protective of human health than the current standards. If the calculated number comes out higher, then Ecology should stick with the old number, he said.
The result, according to Ecology, is that 70 percent of the standards would become more protective of human health, while 30 percent would be kept the same. The one exception is arsenic, for which experts said the natural background level was higher than the regulatory limit — so Ecology raised the proposed standard to the level allowed in drinking water.
Peters said he feels blindsided by the governor's change in the cancer risk rate, which would leave the status quo for too many chemicals that should be reduced before being released into Puget Sound and other waterways.
"We need to change the status quo, and the state took a step backward," he said. "The most vulnerable are the young kids, because they are building their immune systems. We are trying to get them back to more traditional foods, but we want to protect their health."
Oregon's Limits
Water-quality standards are the primary measure of whether a body of water is healthy or "impaired," which triggers a cleanup plan. Since many of the chemicals are difficult to measure in the water itself, Washington state measures them in fish and uses conversion factors.
Facilities that discharge regulated chemicals are generally considered in compliance with the federal Clean Water Act if their effluent is below the water-quality standard. In permitting the discharges, state officials can take into account the receiving waters and cleanup technology available to the facility.
Studies of Puget Sound fish have concluded that the chemicals of greatest health concern are mercury and polychlorinated biphenyls (PCBs). Ecology's proposed water quality standards would leave the limits for both at previous levels.
Many environmental advocates would like to see Washington state retain the cancer risk at one in a million, as Oregon did when it updated its water quality standards in 2011. The effluent limits for PCBs in Oregon are 26 times lower than those proposed in Washington.
Janet Gillespie, executive director of Oregon Association of Clean Water Agencies, said the state has not written many permits since the new standards went into effect. One reason may be because no technology currently exists to meet the effluent standards for many of the chemicals, she said. Her organization represents cities and counties in Oregon that operate sewage-treatment plants and stormwater systems.
"We don't know what it will take to meet the stringent numerical standards," Gillespie said. "You can't just put a black box on the end of the effluent pipe. We have been expressing concerns about this since the regulation came out."
She said the answer is likely to be some sort of variance from the standards or a "compliance schedule" that gives facilities many years to comply.
Ecology has proposed making similar options available for facilities that can prove that it is impractical to meet the state's new standards.
In Washington, a study funded by the Association of Washington Business, along with cities and counties, found that there are limited "proven" technologies that can meet Oregon's standards for PCBs, mercury, arsenic and benzo(a)pyrene, all chemicals of concern.
Advanced technologies in the conceptual stage have been able to get down to 0.00001 microgram per liter of PCBs, but not to 0.0000064 demanded by Oregon's rule, according to the report by HDR, a Bellevue consulting firm. If the technology were developed on a large scale, it would cost millions of dollars.
Chris Wilke, executive director of Puget Soundkeeper Alliance, acknowledged that the new water quality standards could be difficult to meet, but that's how new technology gets developed.
"The necessity of reaching the next step is what drives innovation," he said. "If it is a challenge to implement in the short term, then someone will develop a technology to get us down to that level. The point of this rule is to regulate our point dischargers in a way that protects human health."
Wilke said he is not comfortable with compliance schedules that would give facilities 10 or 20 years to meet the new standards, but a variance requiring approval by the federal EPA could be an option for facilities facing true hardships.
Point vs. Nonpoint Pollution
One argument Ecology makes for not tightening discharges of PCBs, mercury and other chemicals is that their contribution may be relatively small. PCBs stay in the environment, cycling through the food web, while much of the mercury arrives in stormwater and even atmospheric deposition from coal-fired power plants in other states and across the Pacific Ocean.
Sewage-treatment plants remove many toxics, but they are not designed to remove PCBs, experts say. And they don't produce any chemicals; they only process what comes in from homes and businesses.
The ban on PCBs across the United States still allows very low levels of the chemical in some uses, such as inks and dyes, said Chris McCabe of Northwest Pulp and Paper Association.
"Our guys aren't manufacturing or creating these chemicals, but we're being held accountable," said McCabe, who represents 10 paper mills in Washington and six in Oregon. "The PCBs come from the inks and dyes in recycled content. These mills are trying to be environmentally responsible by recycling, but it becomes a problem."
McCabe said Washington's proposed water quality standards are "workable," though some facilities will need to be upgraded to meet the new requirements.
"The Department of Ecology has publicly stated that the biggest threat is nonpoint," McCabe said, "so why are we squeezing the point sources so hard? There is no environmental bang for the buck."
Matt Baca of Earthjustice argued that the need to address stormwater pollution should not be a reason to avoid cleaning up discharges from pipes.
"There is still time for Ecology to do the right thing and finalize the most protective water quality standards," he said.
Inslee has tied the new water quality standards for point discharges at the end of pipes to his legislation for dealing with stormwater and nonpoint pollution. If the legislation does not pass, he said he would reconsider his overall proposal for combating pollution.
"There is increasing evidence that toxics are coming from diffuse sources," said Rob Duff, Inslee's environmental policy adviser. "These contaminants are having an impact on kids and their ability to learn. If we don't get at the distributed sources coming from all the products we use, we will really be missing the boat."
Dennis McLerran, regional administrator of the Environmental Protection Agency, has questioned why Ecology proposed to raise the cancer risk from one in a million to one in 100,000, especially after using the lower risk for more than 20 years.
Inslee hopes to convince him that the state's overall plan will be more effective at reducing pollution than just focusing on effluent standards.
Meanwhile, the EPA has begun a process to update water-quality standards on behalf of the state of Washington. That process began after Ecology missed a Dec. 31 deadline to complete the new standards, a deadline set by McLerran.
The latest timeline calls for EPA's work to be wrapped up by August, said Angela Chung, water quality standards manager for EPA. That's just about the time Ecology is expected to complete its work on the same regulations.
"If we are really close in timing, we may hold back on our publication in the Federal Register," Chung said. "It's also possible, depending on circumstances, that it would still be appropriate to get public input on our proposal."
How the EPA will respond to the state's proposal, once completed, is still an open question, Chung said.
"We understand how the state is characterizing this as a give and take," she said, "but at the end of the day we have to be confident that what they are saying about the human health criteria are protective and reflect current data."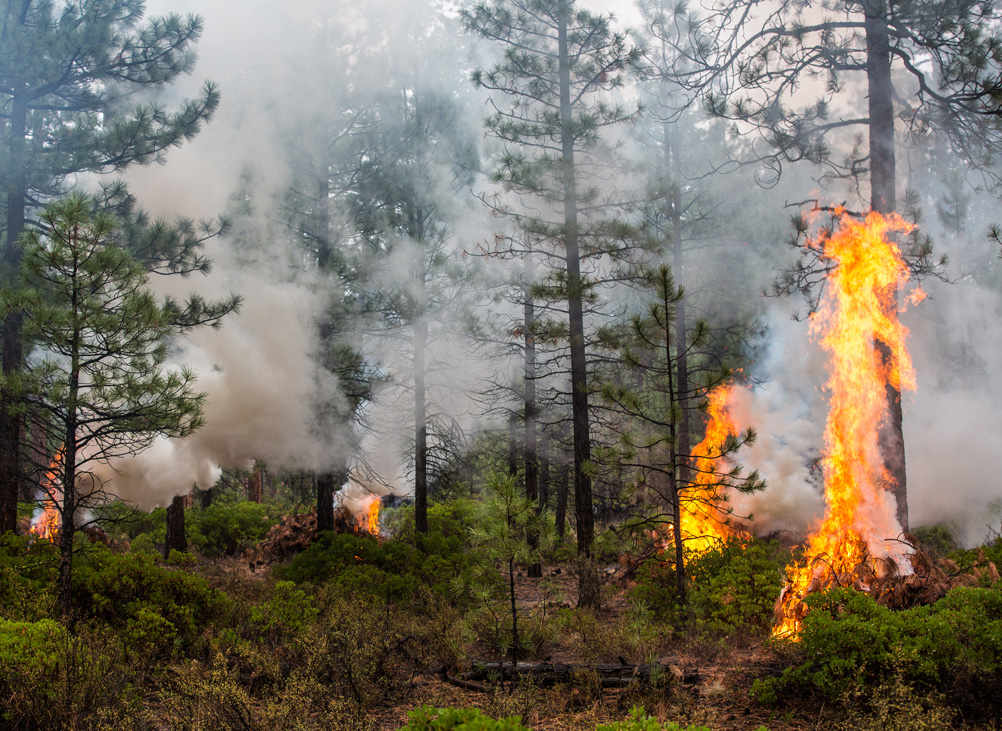 Forests and the Economy | May 2015
Environmentalists and the timber industry — once bitter adversaries — are working as allies on forest restoration. Collaborative forest thinning projects aim to fight megafires before they start — but money is scarce and tens of thousands of acres acres in Oregon now face an elevated risk of catastrophic fire. Ben DeJarnette reports for InvestigateWest.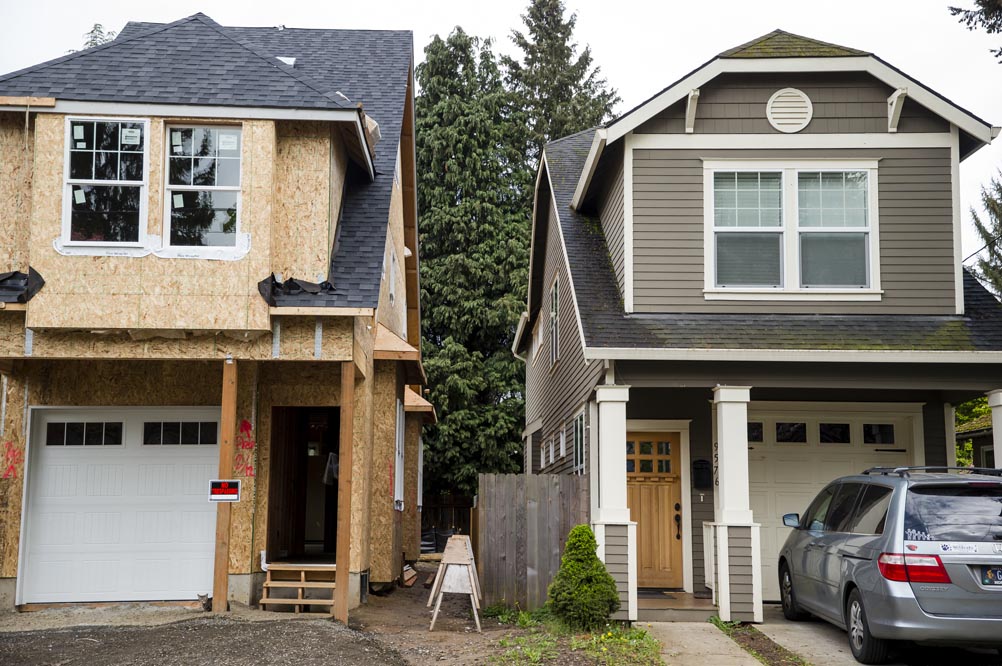 Equity | April 2015
Cash reigns in the Portland housing market. The city faces pressure from a new kind of speculation, as investors buy thousands of homes with cash and long-established protections for bank-financed homebuyers are ignored. Lee van der Voo and James Gordon report for InvestigateWest.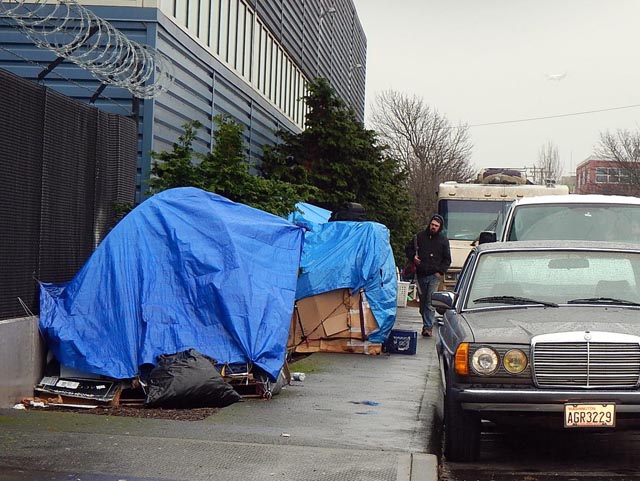 Wealth and Poverty | March 2015
March 2015 marks the anniversary of a bold promise: King County's 10-year plan to end homelessness. Now that the 10-year plan is ending and local homelessness is worse than ever, talk of ending homelessness is being replaced with less-lofty aspirations: making homelessness rare and brief when it does occur.
In collaboration with KUOW this week, we examine the roots of the plan, the challenges it faced, and where community and city leaders think we go from here.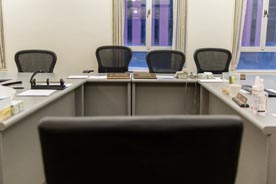 Equal Justice | December 2014
With grand jury reform elsewhere focused on eliminating racial bias and curbing police use of force, Oregon is an outlier: It is one of just 14 states that do not regularly record the citizen grand juries that charge people with felonies.
Almost five years after police killed an unarmed black man in Portland and the Multnomah Co. district attorney petitioned for that grand jury to be recorded, lawmakers in Salem are lining up behind a reform bill to mandate recording statewide, InvestigateWest has learned.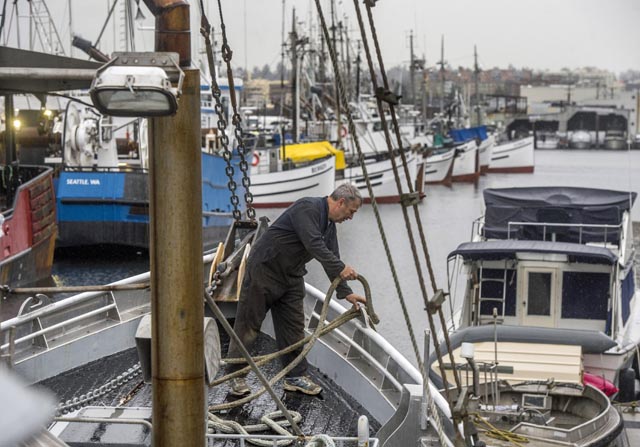 Seafood | December 2014
A struggle in Alaska over shrinking supplies of halibut is threatening the iconic centerpiece fish in favor of cheaper exports, fast-food fillets and fish sticks.
At risk is most of the frozen supply that sustains restaurants, food-service companies and retail stores nationwide, such as Costco and Whole Foods. Lee van der Voo investigates.
Photo: Peter Haley / The News Tribune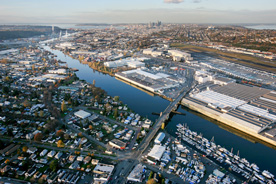 Environment | November 2014
It will take hundreds of millions of dollars to clean up the Duwamish River. But how clean is clean? And who decides?
Robert McClure looks at how lobbyists and community groups have squared off over the health of the waterway and its neighborhoods.
Photo: Paul Joseph Brown/ecosystemphoto.com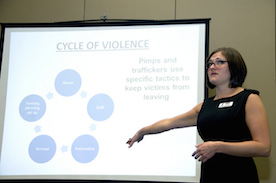 Trafficking | October 2014
Authorities say organized gangs increasingly are trafficking children for sex in the Northwest, and even cooperating with each other to stymie police.
Meanwhile in Portland, the U.S. Attorney's Office has become the third most prolific nationally in securing indictments for trafficking children and adults for sex.
Photo: Oregon DOT/Flickr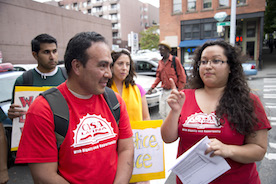 Minimum Wage | August 2014
"Everyone is aware that passing a $15 an hour minimum wage was historic," an advisor to Mayor Ed Murray and the Seattle City Council told InvestigateWest. "But if we cannot enforce that, we haven't accomplished much."
Based on a review of more than 20,000 wage theft complaints, hundreds of pages of reports and more than a dozen interviews, "Stolen Wages" shines a light on the dark world of pay violations in Seattle and across Washington.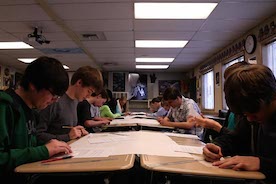 Infrastructure | May 2014
Portable, modular or relocatable classrooms — whatever you call them — are a necessity for cash-strapped schools.
But many portables become permanent fixtures, in place for decades at a time. Costly and insufficient, these aging structures burden the grid, frustrate teachers and administrators and compromise student health.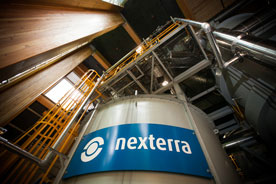 Environment | April 2014
Energizing our world with wood sounds so natural. And it has quickly become a multibillion-dollar industry as governments including British Columbia and the European Union turn to biomass to replace dirty old coal. Yet what we found when we dug into the coal-vs.-wood debate will surprise you.
Acknowledgements
In our work, we rely on the generosity of many others who make their services available for free or at a discount to nonprofits, including Tableau and the Texas A&M GeoServices Team.